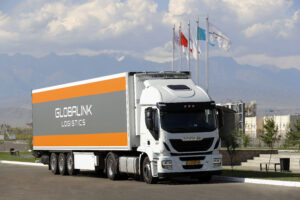 We are happy to announce that Globalink Logistics has successfully resumed road transportation services between China – The CIS, China – Turkey and China – Europe, which was suspended due to the heavy congestion on the Kazakh Chinese borders.
Offering a reliable transit time is essential in the transportation industry. We clearly understand that businesses will not be able to operate without receiving raw materials, finished goods, or parts from their suppliers on time. It was not an easy decision, but we had no choice but to suspend our cross-border trucking services in Dec 2021 because we couldn't meet our customer's transit time expectations.  Thanks to the joint efforts of Kazakh and Chinese authorities, and our border terminals, the congestions have been eased, and we were able to resume our cross-border trucking services in April.
Globalink is one of the most significant assets backed customs bonded road transport operators authorised to use the TIR system. Under the TIR convention, goods can be transported using TIR Carnet between member countries without customs control at intermediate borders. Our modern GPS enabled road fleet, a strong regional network in China, The CIS and Europe, and dedicated drivers make Globalink Logistics one of the reliable road carriers in Eurasia.