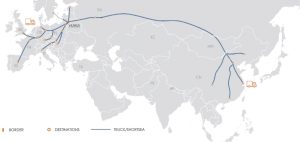 We are excited to introduce our new cross-border trucking service, connecting the industrial heartland of Mainland China to major hub cities in Europe via Mongolia. This new service offers a faster and more cost-effective shipping solution for businesses looking to expand their reach and improve logistics.
The benefits of connecting Mainland China to European hubs include:
Direct routing reduces transit times and costs, enabling businesses to respond more quickly to customer demands
Improved logistics and competitiveness in the global marketplace
It is faster than sea and rail freight but cheaper than air freight
Our team of experienced logistics specialists and advanced technology provide comprehensive support throughout the shipping process, ensuring that your goods are delivered safely and on time. Please refer to the attached presentation for more details.
Don't miss this opportunity to upgrade your shipping solution. Contact us today to learn more and get started:
Head of Multimodal: Mr Ochir
o.urtnasan@globalinklogistics.com
Pricing and inquiries: Ms Nana