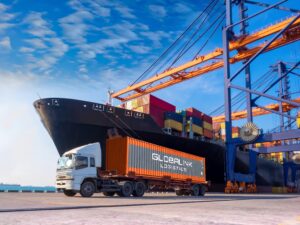 Riga Port is strategically located between West-East and connects the legendary Silk Road and Amber Road trade routes. Its geographical location at the centre of North-East Europe offers excellent connectivity between the USA, EU and Central Asia, Mongolia and China. Over the year, Riga has become an important transit hub for Globalink Logistics.
The Latvian Transit system includes well-developed rail, road, maritime and aviation transport infrastructure. Latvia has three major ice-free ports – Ventspils, Riga, and Liepaja, complemented by seven minor ports – Salacgriva, Lielupe, Engure, Mērsrags, Roja, Kolka and Pāvilosta.
Latvia has a dense railway network connected with European railways and integrated with the former Soviet railway 1520 mm gauge, which offers excellent connections to the CIS. Most of the transit cargo traffic moves through the railway. Riga Express (Riga-Moscow), ZUBR (Tallinn, Riga, Minsk, Kiew, Ukrainian Black Sea Port Odesa/Ilyicevsk, Chornomorsk), Baltika Tranzit (Baltic States – Central Asia) and Northern Distribution Network in Afghanistan are important routes served by Globalink.
Latvia has a well-developed road transport system. The Via Baltica, the 970 km segment between Tallin and Warsaw in the European route E67, is a vital transport corridor traversing Latvia in the north-south direction. It connects European cities Helsinki, Tallinn, Riga, Kaunas and Warsaw, and Riga, Kaliningrad and Gdansk. Globalink Riga offers ODC, FTL and LTL services between Europe, Mongolia, Central Asia and China.
Globalink Logistics has two cross-dock stations in Kaunas and Riga with easy access for the lorries, dual temperature control facilities, and 24/7 security and operations. Our facilities reduce the costs of moving containers from the port area to outside warehouses hence ideal for the transit operations. Our Transit Terminal, located in BCT territory, Riga port, is a 2000 sq.m temperature-controlled facility serving all major shipping lines such as Maersk, COSCO, China Shipping, Evergreen and others.
For more information on our multimodal services for the general and project cargoes, please contact: sales@globalinklogistics.com
Dmitrijs Jelutins,
General Manager, Globalink Baltics